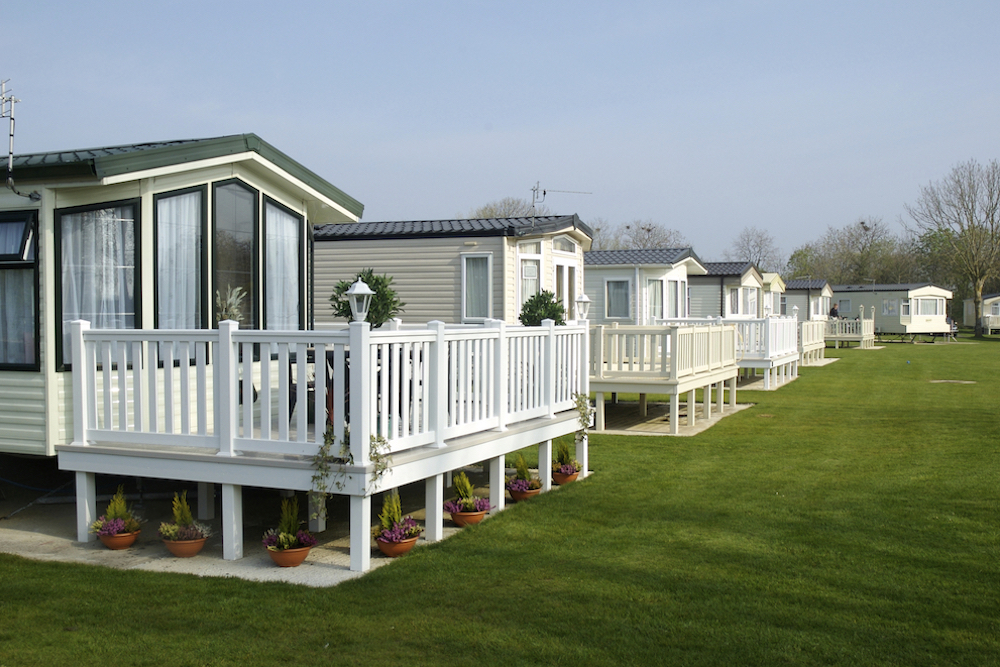 It's your home, your home away from or your home on the road. Your needs are special, and you need a specialized insurance product and agent. When you have a loss, will your property be "replaced" or settled for "pennies on the dollar?"
Will your personal property be covered? What if your dog bites someone, or someone injures themselves on your premises?
Whether you have a singlewide, doublewide, modular, destination trailer or tiny house, contact us to discuss and review your situation.
Click here to send us info so that we may contact you, email us at team@delinsadv.com,  or call 614-870-1000.
Manufactured home insurance is more complicated than a motorhome policy and must provide more tailored coverages.
What is a manufactured home?   A manufactured home is stationed in one location with residency either as primary residence, seasonal/vocational or a rental (tenants maybe eligible for a renter's policy). A manufactured home insurance policy requires at least one of the following: Attached structures to the trailer, running/towing gear removed, skirting/permanent foundation/anchored on blocks and/or permanent utility connection(s).
Available coverage limits are based on occupancy type.  For example, a Fifth Wheel/Travel Trailer typically is used to travel on road or to a camp site, However, more and more we are seeing them used as a residence.   Our risk management processes will help determine the proper insurance policy per qualifications.  Take the Fifth wheel as the example…you travel to different locations to use it for your personal enjoyment.  You would need a Motorhome/Tractor Trailer insurance policy.  However, using the same fifth wheel as primary residence you would need a manufactured home insurance policy which provides more coverages like a homeowner's policy.
Coverage Options:
A basic Manufactured home policy consist of 6 components (A-F); which are:
Dwelling – (i.e. Singlewide, Doublewide, Modular, Fifth Wheel/Travel Trailer, Park Model/Destination Trailer and Tiny Homes)
Other Structures – (i.e. detached garage, shed, fence, other buildings)
Personal Property – (i.e. your stuff – belongings you bring into your home)
Loss of Use – (i.e. lodging elsewhere in unlivable conditions)
Personal Liability – (i.e. a judgment against you where you are responsible party for injury or damage)
Medical Payments – (i.e. payments to those injured on your property or at fault of an insured)
Deductibles range from $250-$3,000
Common additional coverage options:
Optional coverages offer additional protection to help give you a peace of mind.
Personal Property Replacement Cost
Water Backup/Sump pump -Provides coverage for loss resulting from water which backs up through sewers or drains or which overflows from the sump.
Increased Home Computer Coverage – Additional coverage, up to $10,000
Increased Limit on Jewelry, Watches and Furs– Unscheduled coverage up to $5,000.
Scheduled Personal Property – Separate insurance on each item. Appraisal required for individual items worth $5,000 or more. (May subject to underwriter for approval.)
Earthquake Coverage – coverage not available on basic/standard policy; provides coverage to the dwelling, personal belongings, and loss of use in an event of an earthquake.
Trip Collision coverage – When moving/relocating your home
And more!
Available Discounts:
Advance Quote
Multi-policy
New Purchase
Paid in Full
E-Policy
Let us put together the right coverage package for you! Click here to send us info so that we may contact you, email us at team@delinsadv.com,  call 614-870-1000